++++++++++++++++++++++++++++++++++++++++++++++++++++++++++++++
ONLY SICK, ROUGH, UNHOLY, MOURNFUL, SORROW, GRIEF, SUICIDE, BLEAK, EMOTIONAL, TORTURE, DOOM METAL PESTILENCE!!!
++++++++++++++++++++++++++++++++++++++++++++++++++++++++++++++
Doom News
In 2009, after several offers Mirthless signed by kult underground label for 10' inches called "… A Las Orillas del Mar" It contains pure sound of depression!!! The Doom formula is to follow gloomy, deep, scream, whispering voice by mournful, heavy distortion guitar and a slow drums into traditional way!!!
Finally the third ode of depression is out!!! "... A Las Orillas del Mar..." in 10' Inches + Kake Obi + Insert!!! by KULT Japanese Label!!! "Deathrash Armageddom" SUCUMB YOURSELF INTO DOOM VOYAGE...
Mirthless has gotten the true sound of doom kult to underworld!!!
MANIAKS, SUICIDES VISIT THE SITE IN TOTAL BLEAK WAY!!!
http://www.myspace.com/mirthlessdoommaniac
LISTEN AND BE DOOMED ETERNALLY!!!
MANIAKS, DISTRIBUTORS, MAILORDERS, UNDERGROUND LABELS ARE WELCOME TO DOOM PARADISE!!!
ASK FOR FULL WHOLESALE PRICES + BONUS + FREE BADGES!!! WRITE TO MY MAIL ONLY!!!
ttonapa@hotmail.com
MANIAKS AROUND UNDERWORLD VISIT THE SITE IN TOTAL SICK WAY!!!
http://www.myspace.com/doommaniacproductions
The doom pestilence is distributed in Peru, Brazil, France, Austria, Hungary, Australia, Japan, Deutsch….
Official Distributor to Underworld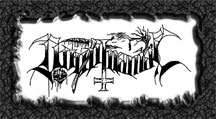 DOOMMANIAC PROD & DISTRO AND SERVICES
HERNAN PUERTA VILLAGARAY
J.R GENERAL SUCRE 184 – 186
COMAS LIMA 07
PERU
(SOUTHAMERICA)
ttonapa@hotmail.com
doommaniac_mirthless@yahoo.es
doommaniacprods@yahoo.com
http://mirthlessdoommaniac.tripod.com/doommaniac.htm
http://www.myspace.com/mirthlessdoommaniac
http://www.myspace.com/doommaniacproductions